Return to ➽ ➽ Quests
---
This quest line will show up automatically when you reach Experience Level 30


Quest Requirements have been decreased significantly!

---
Beyond the Mists 1/3
Craft any (20) Trovants in your Greenhouse
(Enchanting will increase the drops but you still have to run the Greenhosue 20x)
Craft (2) Firewater in your Brewery
(Enchanting will increase drops and count toward the quest objective)
Water (8) withered Crops at your neighbors
Note: Clicking the "Show" button on this quest objective, while at neighbors, will take you right to the withered crops or tell you if they don't have any, this can save a lot of time looking around for them. Also - Kaya has withered crops too!
Beyond the Mists 2/3
Craft (2) Magic Wands in your Laboratory
Craft (12) Green Essence in your Dragon Nursery
Accept Neighbors help feeding any Dragons (6) times
Beyond the Mists 3/3
Collect your own Shops, Taverns and Weird Shops (18) times (Don't accept Neighbor help on this or it won't count)
Sell (1) Amber Dragons
Sell (2) Living Water at YOUR Market (Not neighbors!!)
An Whole New World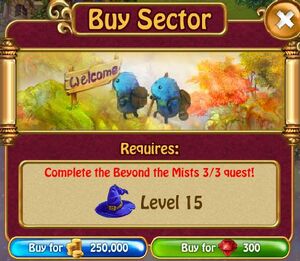 Open the Land Expansion
Finish construction on the new Sturdy House
Enchant your Sturdy House (8) times
Ad blocker interference detected!
Wikia is a free-to-use site that makes money from advertising. We have a modified experience for viewers using ad blockers

Wikia is not accessible if you've made further modifications. Remove the custom ad blocker rule(s) and the page will load as expected.