Return to ➽ ➽ Timed Event Quests
---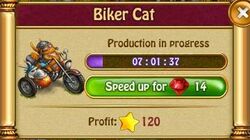 The Biker Cat Quest was given in a popup that lasted for 24h and cost $7.49.
The quest is not essential to your progression in the game and is just an item like any other ruby item you might purchase. Fun to have, really cute but not a game-breaker if you didn't purchase it.
Ad blocker interference detected!
Wikia is a free-to-use site that makes money from advertising. We have a modified experience for viewers using ad blockers

Wikia is not accessible if you've made further modifications. Remove the custom ad blocker rule(s) and the page will load as expected.