Return to ➽ ➽ Easter Event 2017
---
These are the Side Quests you will receive during the Easter Event 2017
Hungry Gwonk
Craft (1) Speckled Egg in your Artist's Tent
Recipe:

120 Mana
(1) Magic Dust
(3) Fresh Egg

Feed the Hungry Gwonk on your land
Feed a Hungry Gwonk at your Neighbors
Basket with a Surprise
Get (3) Shovels (Can request as gift)
Clear (1) "Basket with a Surprise" on your land
Clear (1) "Basket with a Surprise" at Neighbors
Holiday Decoration
Craft (8) Carpenter's Kits in the Laboratory Kaya will take these automatically from inventory upon quest completion
Have (8) Speckled Eggs in Inventory
Craft (1) Easter Composition in the Artist's Tent
Recipe:

(12) Magic Dust
(8) Speckled Eggs
(3) Chocolate Bunny
Timer: 1 hour

WARNING!! If you craft a Cozy Nest prior to getting this quest, the objective to craft one will not update until you make a 2nd Cozy Nest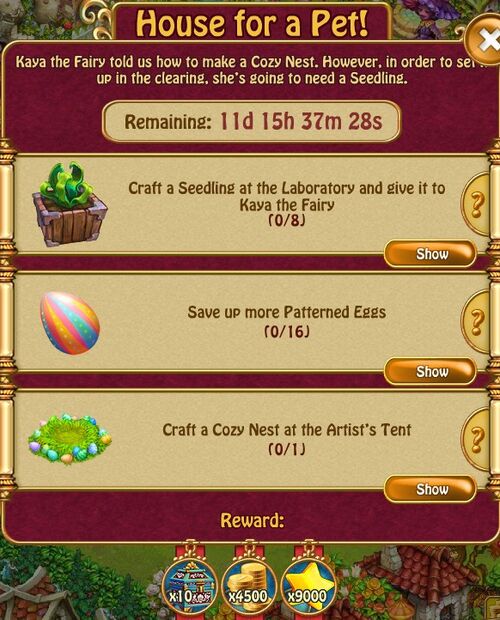 House for a Pet!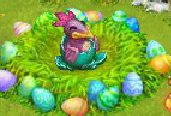 Craft (8) Seedlings in the Laboratory
Have (16) Patterned Eggs in Inventory
Craft (1) Cozy Nest in the Artist's Tent
Note 1: The Nest must be placed on your land and wait for the Shmoos to finish construction in order for the quest objective to update
Note 2: This quest is optional!
Let's Stock up on Cups!
Craft (12) Toolboxes in the Laboratory
Have (12) Holiday Eggs in Inventory
Craft (1) Tea Party in your Artist's Tent
Ad blocker interference detected!
Wikia is a free-to-use site that makes money from advertising. We have a modified experience for viewers using ad blockers

Wikia is not accessible if you've made further modifications. Remove the custom ad blocker rule(s) and the page will load as expected.