Return to ➽ ➽ Timed Event Quests
---
» » This quest is no longer available « «
---
Click here for ⇛ ⇛ Halloween Decorations Mini-Quests ⇚ ⇚

Note: Fear and Terror will drop until you complete 17/17 of the quests, then only fear will drop until you have completed the Wild Flock quests.
Craft a White Goose (drop 1 quill when sold)
Craft a Black Goose (drop 2 quills when sold)
Collect 10 Quills for Kaya by selling Level 10 Geese (They eat 1 fear and 15 mana)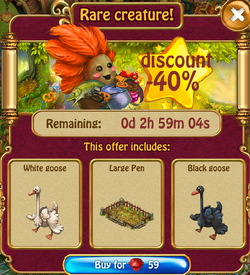 Have Neighbors feed your White Geese 30 times
Feed your own Black Geese 40 times
Collect 25 quills by selling Geese (these will be taken on completion of the quest)
Ad blocker interference detected!
Wikia is a free-to-use site that makes money from advertising. We have a modified experience for viewers using ad blockers

Wikia is not accessible if you've made further modifications. Remove the custom ad blocker rule(s) and the page will load as expected.