The Springtime festival of May Day has begun in the enchanted forest!
Kaya's Gift
A big reward for a little quest!  

Golden Paws
Construct the Wonder Workshop you received as a reward from Kaya.  You will find it in your inventory.  If you want to build a second or third Wonder Workshop, they are available in the shop for rubies.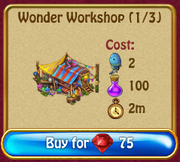 Once the Wonder Workshop is complete, you can craft the maypole.

Proceed to the May Day Timed Quest Set.
Ad blocker interference detected!
Wikia is a free-to-use site that makes money from advertising. We have a modified experience for viewers using ad blockers

Wikia is not accessible if you've made further modifications. Remove the custom ad blocker rule(s) and the page will load as expected.