Return to ➽ ➽ Animals & Nurseries
---
Nautilus
Information
Available
Starter level
Adult Lvl
Level 10
Eats
250 mana
Lvl 10 Harvest
390c, 10xp
Feed Timer
2 hours
Adult Sell Price
Gives +1 Fish Egg
Misc Info
Fish Eggs sell at Neighbors Markets for 1800c for you and 600c for Neighbor
Nautilus can be placed in any Animal Pens
It is one of the best money makers in the game
Leaving a Large Pen of 8 Nautilus will give you 3,120c every 2h, if you feed on cycle
Nautilus can be purchased from the Store for 45, is sometimes sold via Popup Sales (rare) and if you were lucky enough to be playing Charm Farm in June of 2015, you might be one of the lucky few to have, what I consider the most valuable Timed Quest item in the game - The Fishing Pond from the Summer Fishing Event. The Fishing Pond drops random "Something Fishy" collection pieces, when turned in will give you +1 Nautilus!! Basically an endless supply of these awesome animals.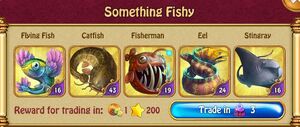 When Nautilus is sold it will give "Fish Eggs" - this item can be sold at Neighbors Markets to give you 1800c and the Neighbor gets 600c!!
Nautilus, like all other animals, give Horns & Hooves that can be sold at Neighbors Markets for some extra coins, since they are currently not used for anything
Ad blocker interference detected!
Wikia is a free-to-use site that makes money from advertising. We have a modified experience for viewers using ad blockers

Wikia is not accessible if you've made further modifications. Remove the custom ad blocker rule(s) and the page will load as expected.