Information
Unlock Req's
Comes Pre-built on Expansion ML9
Production Shmoos
No Shmoos needed for production
Harvest Timer
24h
Item
+1 Ink, +1xp
Enchant
+1 Ink, +1xp
The No One's Hut is located on ML9 Expansion.
It has no build requirements, no upgrade levels, gives the same item and looks almost exactly like the
Witch's Hut
you can purchase in the Shop at L18.
However, the
Witch's Hut
has very different requirements. Click the link to see those details.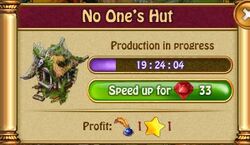 Ad blocker interference detected!
Wikia is a free-to-use site that makes money from advertising. We have a modified experience for viewers using ad blockers

Wikia is not accessible if you've made further modifications. Remove the custom ad blocker rule(s) and the page will load as expected.