Animal Nurseries
Edit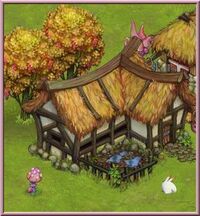 You are first introduced to Animals via the quest: Animal Husbandry 3/3, which asks you to build a Pigfly Nursery.
Once you reach L7 you can build a Pigfly Nursery prior to receiving the quest and it will automatically update that objective. You need to be L17 to Purchase a Bully Nursery.
Nurseries allow you to produce 1 Animal every 1h.
Casting an enchantment will give you 2 Animals every 1h
Allowing a Neighbor to harvest the Nursery will increase by +1 Animal.

Note 1: You may also harvest Neighbors Nurseries and receive a free Pigfly or Bully!
The Animals you produce in your Nursery and harvest from neighbors can be found in your Inventory.
Note 2: There is now a cap on building Nurseries, you may now purchase 1 of each type. Any were allowed to keep any extra Nurseries you had purchased prior to this change.
Click for » » Dragon Nursery Info « «