Return to ➽ ➽ Timed Event Quests
---
This Quest is no longer available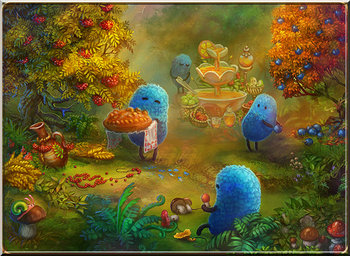 Autunm has arrived in the Enchanted Forest!
You'll receive a few Kaya's Gems and maybe some Fall Seasonal spells in the rewards.  There are 2 builds for this quest, the Rowan Tree and the Cider for Everybody Fountain.  The quests are broken into 2 sets of tabs.  Scroll down for the second set.  Time for the Fruit Extravaganza!
The Rowan Tree
Edit
Enchant 3 Shacks
Find 3 Baskets of Mushrooms (click pretty much anything-houses, animals, weeds, mushrooms etc)
Sell 3 Nectar in YOUR market
Plant the Rowan Tree from your inventory
Enchant the Rowan Tree
Collect 3 Korovais from the Rowan Tree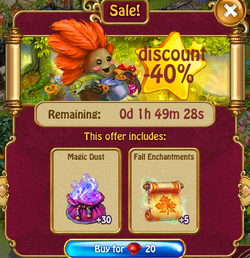 Have 8 Baskets of Mushrooms
Harvest 6 Magic Beans
Find 3 Apples in a Neighbors' forest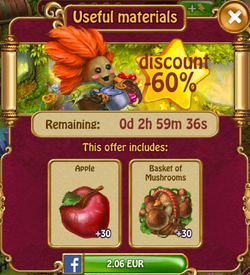 Visit 12 of your Neighbors' Houses
Collect 15 Korovais
Have 20 Baskets of Mushrooms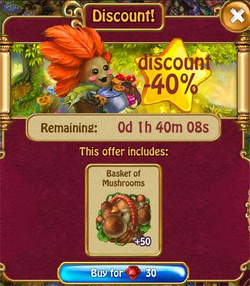 Feed your neighbors' Pigflies 20 times
Craft 5 Viands in the Wonder Workshop
Collect from the Rowan Tree 3 times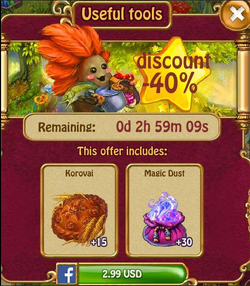 Find 20 Apples in your neighbors' forests
Harvest 8 Thoughtful Aconitum
Upgrade the Rowan Tree to Level 4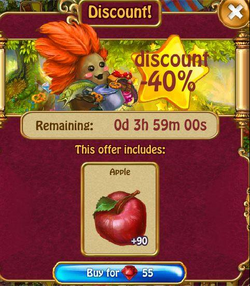 Have 25 Baskets of Mushrooms (once the task turns green, you can use the mushrooms to craft with or lose them on completion of the quest)
Collect 25 Korovais
Collect on the Tree of Peace 2 times
---
The Cider for Everybody Fountain
Edit
| Cider for Everyone Build | Cider for Everyone Production |
| --- | --- |
| L1 Cider for Everyone provided as quest reward | |
| | |
| | |
| | |
Place the Cider for Everyone Fountain found in your inventory
Have neighbors collect from 5 houses
Collect Rowanberry Juice from the L5 Rowan Tree (Place the Fountain first to trigger juice production)
Upgrade the Cider Fountain to L2
Collect from the Cider Fountain (1) time
Send (10) Apples to Neighbors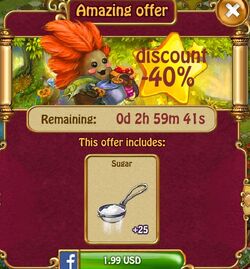 Collect (6) times from No One's Forge
Allow (15) Neighbors to collect from your Houses
Sell (25) items at YOUR Market
Upgrade the Fountain to Level 3
Dig up 10 items at your neighbors' farm
Have neighbors collect from 15 of your houses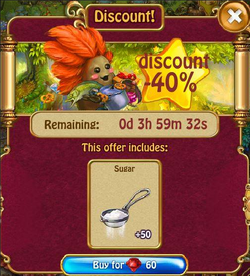 Collect from 8 of your Shops, Weird Shops or Taverns
Have neighbors collect from your houses 20 times
Sell in your neighbors' markets 25 times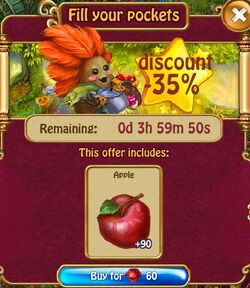 Ad blocker interference detected!
Wikia is a free-to-use site that makes money from advertising. We have a modified experience for viewers using ad blockers

Wikia is not accessible if you've made further modifications. Remove the custom ad blocker rule(s) and the page will load as expected.