Return to ➽ ➽ Timed Event Quests
---
Spring has come to the forest. Gather flowers by casting spells on your buildings. Don't forget to check out the Lab!
Spring has Sprung
Blue Primrose
Spells and Primroses
Let's Decorate 1-3
Seeds of Happiness
Sweet Smelling Flowers
---
First Level Quest
Edit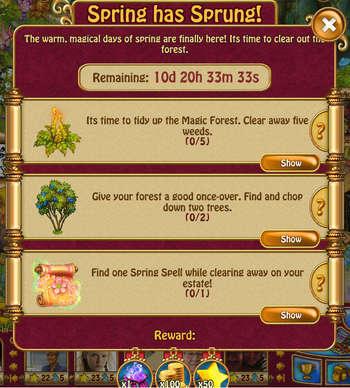 Second Level Quests
Edit
Third Level Quests
Edit
For Let's Decorate: Lilacs require 3 Magic Dust, 20 Seeds of Happiness, 30 White Primrose with a 1hr timer
For Seeds of Happiness: The Tree of Peace now requires flowers not shmoo. Cast spells to find flowers. (Work on this one first to unlock the Sweet Smelling Flowers Quest. It will help you get the flowers you need for crafting)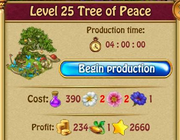 For Spring is Here: Violets require 5 Magic Dust, 30 Seeds of Happiness, 25 Pink Primrose with a 1.5 hr timer
For Burning Beauty: Fire Trees require 10 Magic Dust, 45 Seeds of Happiness, 200 Blue Primrose



Fourth Level Quest
Edit
Ad blocker interference detected!
Wikia is a free-to-use site that makes money from advertising. We have a modified experience for viewers using ad blockers

Wikia is not accessible if you've made further modifications. Remove the custom ad blocker rule(s) and the page will load as expected.