Return to ➽ ➽ Timed Event Quests
---
Go here for information on ➽ ➽ Fat Rabbit's Pub
For Quest 1/12 send out gifts (reserve 15 neighbors for part 4), however don't accept any gifts of bones you receive until Part 3.
For quests 1/12 through 6/12, mugs do not drop from anything except the Weird Shops.  Only Your Weird Shops harvested by your neighbors will work.
The New Recipe 5/12 quest also gives the reward: Fat Rabbit's Pub Quest Set.
Completion of this quest line gives 1 Alfred Hedgehog!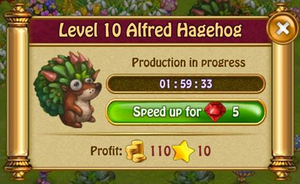 ----
Starting with quest 7/12 mugs can be obtained from your Weird Shop and Shops that are harvested by your neighbors.
For Quest 9/12, don't bother skipping the 12 Ale requirement with rubies.  You still need the 12 Ale to upgrade the pub.
For Quest 9/12, the upgrade to L2 of the pub requires:  500c, 2 shmoo, 50 mana and 12 Ale (30 min. timer)
For Quest 10/12, those who have Taverns are in luck, they also drop Empty Mugs (7 per run).  I'd recommend cycling the Shops though.  Much cheaper to run.