Return to ➽ ➽ Timed Event Quests
---
The Summer Carnival has arrived!  Don't forget to check your neighbors' market when selling lupins.  3 tickets per lupin instead of one.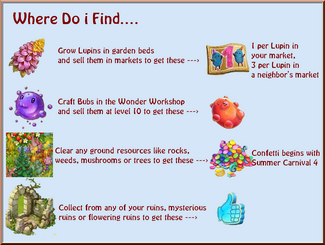 Place the Puppet Theater (Find it in your Inventory > Structures Tab - no Construction time or Build Requirements for L1)
Sell (3) Lupins at your Market
Collect from your Puppet Theater (1) time
Note: If your screen freezes after placing the Puppet Theater, refresh your game.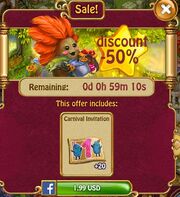 Note: The issue with the companion sale has been resolved. Check your inventory if you purchased it.
Place the Kite (Find it in your Inventory > Structures Tab)
Collect from your Kite (3) times. Enchant the kite for double returns.
The kite can also drop Seasonal Collection items.
Send out (3) Gifts of Confetti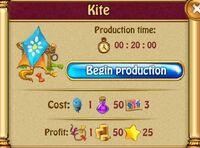 Have a Wonder Workshop
Craft (1) Bub inside the Wonder Workshop (last page)
Feed Bub (5) times - Bub can be placed in any Animal Pen, he eats 30m + 1 Confetti (free gift from neighbors or random drop from clearing your farm) and takes 25m til ready for collecting. He gives 25c + 3xp.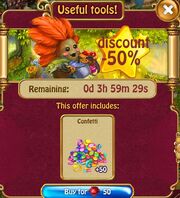 Craft 2 more Bubs
Feed 5 of a neighbor's Bubs
Upgrade the Puppet Theater to Level 2
Upgrading the Puppet Theater unlocks the companion quest, Puppet Show 1/3
Sell 5 full grown Bubs
Collect from the Puppet Theater 5 times
Get 10 confetti as gifts from friends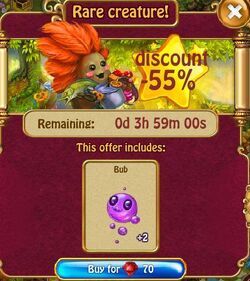 Enchant you Puppet Theater once
Have your neighbors click your Puppet Theater 5 times
Harvest 10 Lupins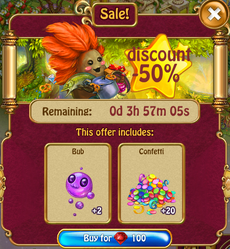 Upgrade the Puppet Theater to Level 3
Feed a neighbors'Bub 10 times
Find Applause in your Ruins 3 times
This non-timed companion quest unlocks with the completion of the L2 Puppet Theater
Harvest 10 Lupins
Fly your kite 10 times
Receive 10 gifts
This quest unlocks with the completion of the L3 upgrade to the Puppet Theater
Collect from your Ruins 15 times
Sell 10 Bub for Gummy Bears
Send 15 Gifts to friends
Ad blocker interference detected!
Wikia is a free-to-use site that makes money from advertising. We have a modified experience for viewers using ad blockers

Wikia is not accessible if you've made further modifications. Remove the custom ad blocker rule(s) and the page will load as expected.