Return to ➽ ➽ Spring Event 2017
---
The Grass Grows 1/6
Feed Pigflies on your land (12) times
Collect from Houses (15) times
Have (3) Magic Dust
The Grass Grows 2/6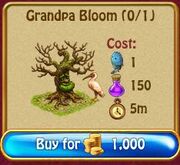 Place Grandpa Bloom on your land (Purchase from Featured Goods tab of the Store)
Collect from Grandpa Bloom (5) times to receive "Multicolored Primroses
Harvest Multicolored Primroses (15) times
The Grass Grows 3/6
Clear (15) ground spawn from your land
Find (15) Crimson Petals while clearing ground spawn or harvesting Multicolored Primroses
Enchant Grandpa Bloom (2) times (If you are impatient like me - use Seasonal Spells if you want it to wear off quickly so you can enchant twice in a short amount of time)
The Grass Grows 4/6
Have a Wonder Workshop
Craft (6) Flower Magic in the Wonder Workshop > Last tab

Recipe:

(50) Mana
(1) Seed
(2) Crimson Petals
Get (12) Blue Petals by using Flower Magic spell on Shmoos or Buildings (Blue Petals from Multicolored Primrose harvest counts also)
Note: Flower Magic spell does not increase payouts or decrease timers.
The Grass Grows 5/6
Upgrade Grandpa Bloom to Level 2 (see tab: Grandpa Bloom Build info)
Harvest (27) Multicolored Primroses
Craft (36) Spring Coins in your Wonder Workshop [Since you get 3 Spring Coins per batch, you only need to craft 12 batches)
The Grass Grows 6/6

Collect Neighbors Ruins, Mysterious Ruins or Flowering Ruins (5) times
Collect (12) Gold Petals by accepting Neighbors help at your Ruins or from harvesting Primroses
Spend at least (99) Spring Coins in the Store > Featured Goods tab
Grandpa Bloom has a 5 minute construction timer but no build requirements at Level 1
He can be ENCHANTED!!
Grandpa Bloom gives (2) Multicolored Primroses every 4 mins at Level 1
Multicolored Primroses are a 6 min crop, give 20m, 1xp and random Petal drop, 2h wither timer
Ad blocker interference detected!
Wikia is a free-to-use site that makes money from advertising. We have a modified experience for viewers using ad blockers

Wikia is not accessible if you've made further modifications. Remove the custom ad blocker rule(s) and the page will load as expected.