Return to ➽ ➽ Timed Event Quests
---
The 3rd Generation of Stumps from Charm Farm!
Clear ground spawn items (Rocks, Mushrooms, Snowflakes etc - leave trees for the next quest)
Collect from Mana Sources on your land, they randomly drop Sugarbushes
Plant a Sugarbush from inventory and collect it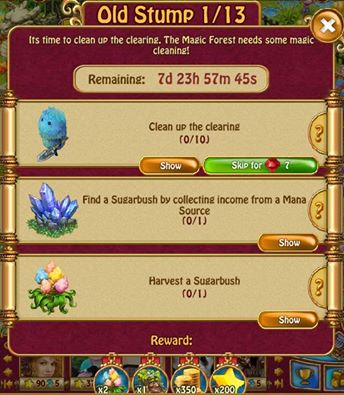 Chop down (7) Trees on your land
Place The Old Stump from inventory > structures tab (5m construction timer)
Collect income from the Old Stump (1) time
Note: Upon completion of building your Old Stump, quest 3/13 will pop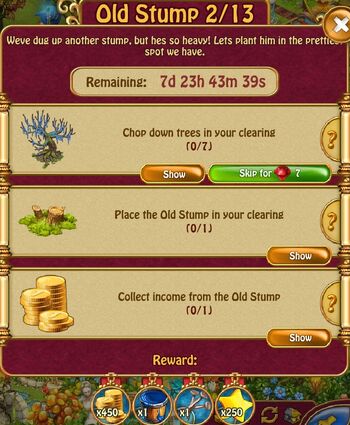 Collect from Mana Sources on your land to get (5) Sugarbushes
Send (5) Agaric Mushrooms as a gift to Neighbors
Find (3) Grapevines as gifts from Neighbors or by opening Packages(Grapevines that drop from chopping trees are not counting, Gifts from Neighbors or Grapevines that comes from opening Packages will update the quest objective)
Note: The Old Stump quest line is no longer timed, so relax and enjoy!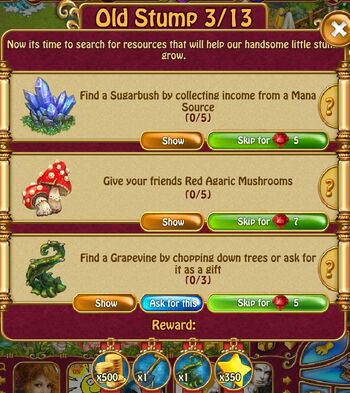 Have a Wonder Workshop
Have Neighbors collect from your Houses
Craft (1) Sweet Moss in Wonder Workshop (15min)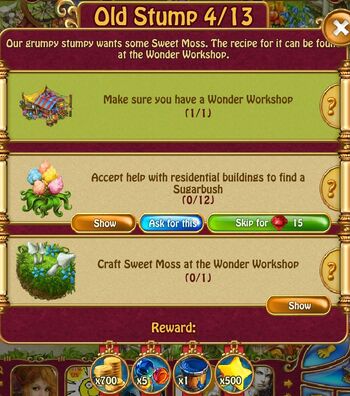 Accept Neighbors help with (15) Houses
Collect a Voodoo Doll from your Ruins (random drop)
Upgrade the Old Stump to L2 (see tab: Old Stump Build Req's)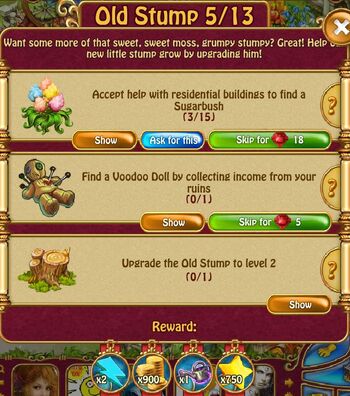 Save up (50) Cotton Candy and give it to Kaya the Fairy (The Cotton Candy will be taken automatically once you have the correct amount in inventory)
Sell (20) items in YOUR Market
Enchant (10) Houses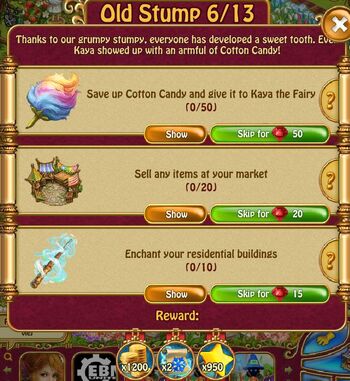 Accept Neighbors help on Houses until you get (50) Sugarbushes
Collect from Mana Sources until you find (50) Sugarbushes (When Sugarbushes drop from Houses that Neighbors click, it will also update this objective)
Collect Income on your "No One's Hut"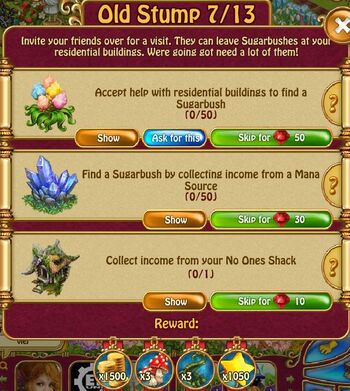 Accept Neighbors help til you find (20) Sugarbushes
Send Neighbors (15) Gifts
Collect from Neighbors Houses (15) times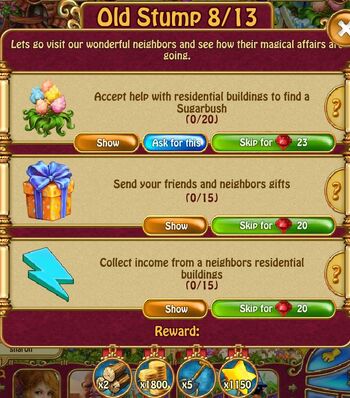 Accept (30) Gifts from Neighbors (You can request items via Lab or Workshop, or ask in the Help Thread in group!)
Accept Neighbors help with Houses til you find (30) Sugarbushes
Upgrade the Old Stump to L3 (see tab: Old Stump Build Req's)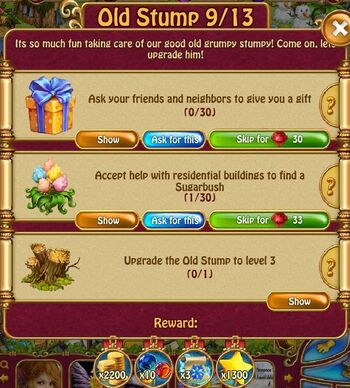 Save up (50) Cotton Candy to give to Kaya the Fairy TIP: Kaya will automatically take the Cotton Candy when you complete the quest. If you use up the cotton candy prior to finishing the quest, you won't lose it. So, complete Objective 1 then use up the Cotton Candy before you finish other parts of the quest.
Sell (25) Pigflies
Collect from your Quarry (3) times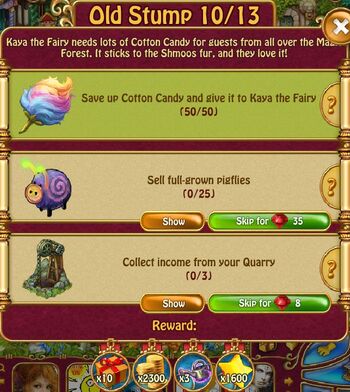 Accept Neighbors help on your Houses til you receive (50) Sugarbushes
Collect from your Mana Sources until you receive (50) Sugarbushes (Houses and purchasing Sugarbushes from the popup sale will complete this objective as well)
Collect from your No One's Hut (2) times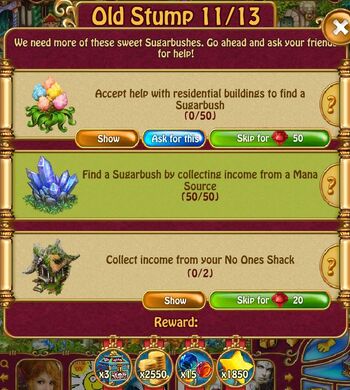 Accept Neighbors help with Houses to get (40) Sugarbushes
Send Neighbors (30) Gifts
Collect from Neighbors Houses (30) times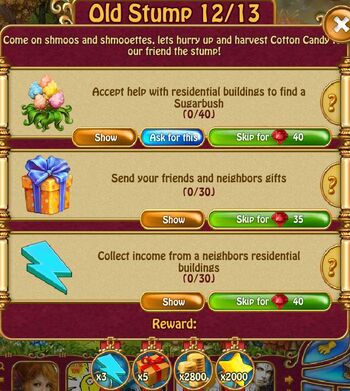 Accept Neighbors help with Houses to receive (50) Sugarbushes
Collect from the Old Stump (5) times
Upgrade the Old Stump to L4 (See Tab: Old Stump Build Req's)