This quests comes from Anticipating Wonders 2/15.
You can find the Anticipating Wonders Quest Set Here: Anticipating Wonders
Place the Sled with Presents in your forest
Get (2) Christmas Magic from your sled
Get (3) Sacks with Gifts by casting Christmas Magic
Enchant (100) Houses
Collect Mana from Neighboring Mana Sources (200) times
Upgrade the Sled to Level 8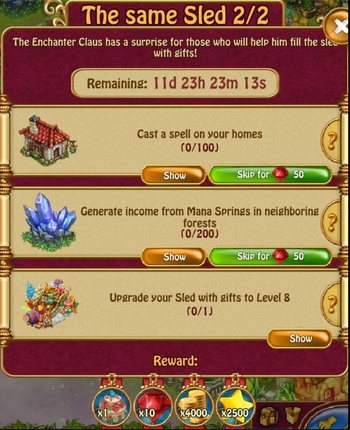 Ad blocker interference detected!
Wikia is a free-to-use site that makes money from advertising. We have a modified experience for viewers using ad blockers

Wikia is not accessible if you've made further modifications. Remove the custom ad blocker rule(s) and the page will load as expected.