'The Christmas Season has arrived in Charm Farm!'
Click for Next Quest: ⇛ ⇛ My Christmas Tree ⇚ ⇚
Clear Snowflakes until you find (3) Snowflake drops
Clear (2) Snowbanks
Collect from your Fairy Dwelling to receive a "Snowy Inspiration" (drops every time)
Enchant Houses with Snowy Inspiration to get [Warm Scarf]
Enchant Shmoos with Snowy Inspiration to get [Buttons]
Place the Toy Workshop from Inventory & Complete the Build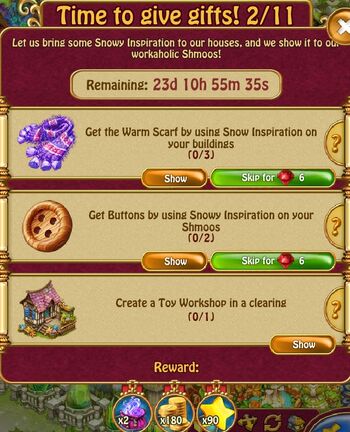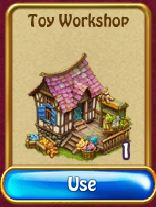 Get (3) Thimbles (Any Click @ Neighbors)
Start production & Collect from Toy Workshop (1) time
Sell (2) Teddy Bears in YOUR Market to get Christmas Tree Ornament
Collect from the Toy Workshop to get "Christmas" Collection items
Trade in the "Christmas" Collections until you have a full stack of "Stockings with Gifts" to open. (You will get some "Stockings with Gifts" as quest rewards - they are found in the last tab of your inventory with other consumable items)
Open your Stack of 'Stockings with Gifts' to get a reward!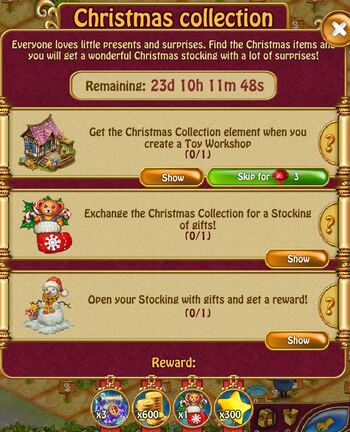 Collect [Snowy Inspiration] from your Fairy Dwelling
Get (2) [Warm Scarf] by enchanting buildings with Snowy Inspiration
Get (1) Buttons by casting Snowy Inspiration on Shmoos
Have a Wonder Workshop
Get (3) Snowballs by collecting from Snowbanks / Snowmen
Craft a Snow Pig in the Wonder Workshop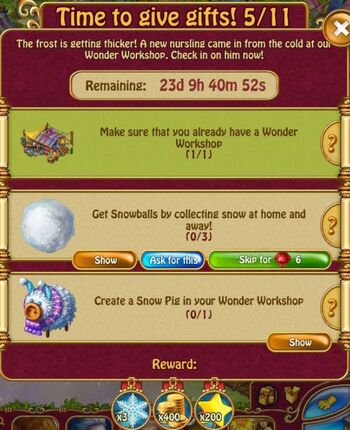 Get (5) Snowflakes by harvesting Snowflakes or as a gift from Neighbors
Feed your Snow Pig (5) times (How adorable are the baby Snow Pigs?!) (12 min feed cycle)
Sell (1) Snow Pig to get Snowy Wool
Craft (3) Snow Pigs in your Wonder Workshop
Sell Teddy Bears at your NEIGHBORS Market (you get 3 instead of 1 and it upgrades the objective for this quest)
Upgrade your Toy Workshop to L2 (See Tab: Toy Workshop Build Info)
Collect 15 Twigs by cutting down yours or your neighbors' trees
Craft Snowy Inspiration Spells 3 times in your Wonder Workshop (total of 15 spells, Fairy Dwelling drops count, too)
Sell Teddy Bears to collect 20 Ornaments (neighbors' markets are a better deal)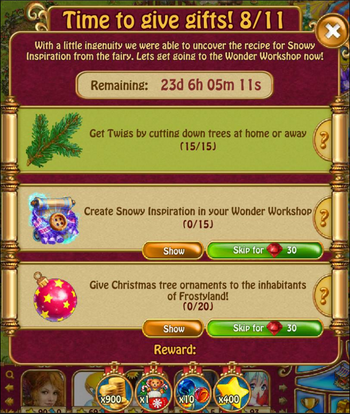 Sell 6 adult Snow Pigs
Sell Teddy Bears to collect 25 ornaments (neighbors' markets are a better deal)
Upgrade the Toy Workshop to Level 3 (See Tab: Toy Workshop Build Info)
Have your neighbors feed your Snow Pigs 24 times
Feed your Neighbors' Snow Pigs 24 times
Collect 35 Ornaments by selling Teddy Bears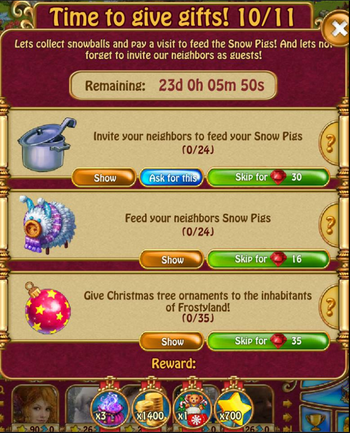 Click here for the Second Christmas Quest Event: My Christmas Tree!
Ad blocker interference detected!
Wikia is a free-to-use site that makes money from advertising. We have a modified experience for viewers using ad blockers

Wikia is not accessible if you've made further modifications. Remove the custom ad blocker rule(s) and the page will load as expected.